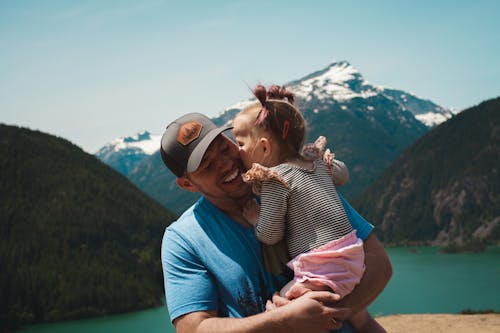 Fatherhood entails responsibility. This responsibility begins at conception, through babyhood, formative years, teen and adulthood. Every child deserves a father, and that includes his presence, love and affection, affirmation, counsel, warmth, discipline and all-around contribution to his physical, spiritual, emotional and psychological development. A child is the continuity of his father, and this goes beyond sharing the same genes or phenotype. Children reveal the strength of character, dignity and investments of who a father is, what he has and his level of imparting the child.
As a father, your child should have you as a confidant to lean on and to learn from. It takes more than the contribution of your sex gamete to be a father. A father represents strength, provider, protector, role model, disciplinarian and lots more. It is a father's responsibility to love his children and their mother as well. It is his responsibility to create an enabling environment for his children to thrive and develop optimally. In some homes, as daddy returns home from work, the kids playing in the living room, resort to their rooms or do something else because daddy is home. The fragrance in the atmosphere changes from relaxing to wild. As a father, your children should rejoice at your arrival. Be a joy giver to your children and not one that destroys fun. Be responsible to them beyond financial contribution and provisions. Be a loving father and a positive role model to them as well. A father should be an enigma of wisdom, a teacher and the priest of his home, providing spiritual and physical direction to his children. Train your child in the way he should go means you should have a vision of the way your children should go, discover your children and channel them in the right direction. Sure, child upbringing is not your sole responsibility, but you are to take the lead along with mummy and every other well-meaning contributor. Together you raise a complete, healthy and well-developed child.
I have stumbled upon some posts or comments of people whose fathers were never part of their lives. Never part of their lives, not because they are no more alive, but simply because they walked away, or worse still denied the child even before he could grasp his first breath. All the father wanted was to have fun, but in doing so, he sowed a seed and the fruit of his adventure developed without any other contribution from him. I hear some men say they were not ready to shoulder the responsibility of fatherhood, and so they walked away from their children. Some children are broken and bitter because of this phenomenon. They were ignored or abandoned by the one who should love them primarily and largely shoulder their upbringing responsibility. Rejection is a negative seed and should not come from a father to his child. If you are a father reading this article today and have kids you abandoned or rejected, please find your kid and make amends and start being responsible to them. Seek forgiveness and be the father you are to your child.
For soon to be fathers, please prepare yourself spiritually, physically, emotionally and otherwise to shoulder the responsibility of fatherhood. Think twice before you impregnate a lady, only to walk away. Fatherhood is an enjoyable and fulfilling journey if you prepare adequately for it. You are responsible for raising every child you birth, you are responsible for raising Godly children, especially if you are a christian parent and you can do so positively. Dear fathers arise to your responsibilities.